If you are new to having a Planet Fitness membership, you may be wondering if guests can tan at Planet Fitness. This is a good question to ask if you plan on bringing a guest with you next time you visit the gym.
As a black card member, you have a lot of perks when working out at Planet Fitness. To find out whether or not a guest can tan at Planet Fitness, keep reading for more information.
Can a Guest Use The Tanning at Planet Fitness?
Guests cannot use the tanning beds at Planet Fitness, this is because they are restricted to the workout area. Black card members can bring one guest with them to Planet Fitness, but their guest doesn't get all of the perks of this membership.
A guest can only go there to workout in the workout area of Planet Fitness, they are not allowed anywhere else. They cannot tan, get a massage, or enjoy any other black card member benefits.
To enjoy these things, they must become a black card member themselves as guests can only workout.
A guest also must be accompanied by the gym member, they cannot go alone even if they signed up in the Planet Fitness app. They cannot take the black card either as it shows ID and will show that they aren't the actual gym member.
These are the top restrictions that a Planet Fitness guest must adhere to if they want to be able to enjoy this gym for free.
Can Guests Go to Planet Fitness Without a Member?
Guests cannot visit Planet Fitness unless they are going with the members of the gym. This is nonnegotiable, and you cannot take their black card to go either.
Planet Fitness will scan the card and see the person's ID, which will show an identification photo. So you cannot give your guest your black card to use as they please.
You must enter and leave with your guest as they cannot attend the gym by themselves as a nonmember. If they want to become a member, a basic plan only costs $10 a month, though it has fewer benefits than a black card membership.
Can Any Member Tan At Planet Fitness?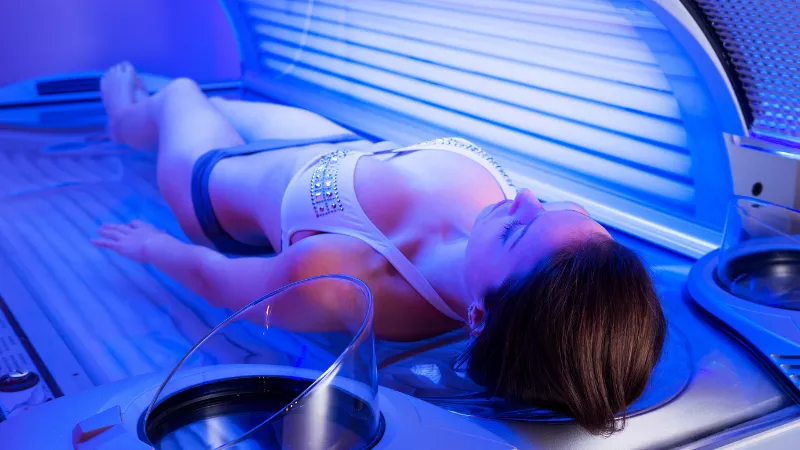 Tanning is restricted with guests as well as with other kinds of members. Only black card members have the benefit of being able to use Planet Fitness's tanning beds.
Basic members cannot use the tanning beds as their membership covers only the bare minimum, when it comes to the gym. They can only workout at Planet Fitness, they cannot bring a guest or use the tanning beds.
These are benefits that black card members get to enjoy and only them. If you wish to use the tanning options at Planet Fitness, you will need to upgrade your plan.
A basic membership plan is $10 a month, while a black card membership plan is $22.99 per month.
Are Planet Fitness Guests Allowed to Tan?
Planet Fitness does not allow any guests to use the tanning area, in fact, they are restricted to the workout area. You can bring a guest, but they cannot enjoy the other benefits that come with having a black card membership.
Tanning is an option that only black card members have access to as they pay $22.99 a month for their membership. The basic membership plan is $10 a month and does not include the tanning beds.
This plan also does not allow you to bring a guest, it will only give you access to workout at Planet Fitness. In order to access other things at Planet Fitness, you will have to upgrade your membership.
Guests also cannot attend the gym unless the member accompanies them. Black card members are also limited to one guest per visit, though they can bring a different guest every time and go multiple times a day.
To bring a guest, you must first invite them on the Planet Fitness app so that they can sign in. Once that is done, they can go with you to the gym without any issues.
If you bring more than one guest, they will have to pay the one-time fee of $20 to be able to get inside of the gym. Though Planet Fitness occasionally lets new people get one free visit if they are thinking of becoming a member.