Report Highlights
81% of consumers do online research before making a purchase online or in the store.
Consumers typically take 79 days of online research before making a high-value or high-cost purchase.
30% of phone calls to retailers convert faster than web leads and produce more sales.
Phone calls to retailers convert 10 to 15 times more than web leads and result in higher value sales.
80% of consumers say that shopping personalization is important in where they make their purchases.
65% of consumers have cut ties with retailers due to a bad customer service experience.
88% of customers will end up making their final purchase in-store despite doing their research online.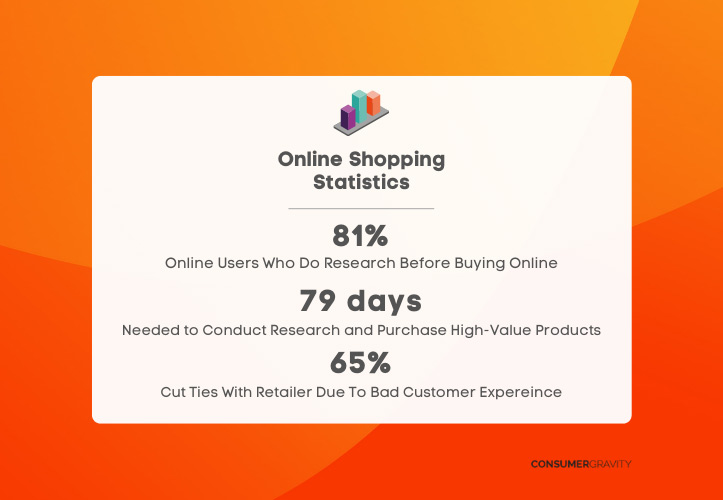 Interested in more stats? Read the Uber Eats Statistics and Food Delivery Statistics pages.
How Many Consumers Research Online Before Making a Purchase?
The amount of consumers who do their research online is staggering, making an online presence more important than ever. It is estimated that exactly 81% of shoppers conduct online research before they buy a product in the store or online.
This is a huge majority and is why so many retailers and companies should get an online presence set up. This can help them to attract more customers and close those sales.
This percentage is only expected to rise as online shopping is only growing more common.
Consumer Online Research Statistics
Research shows that 77% of online shoppers are using their mobile device to do this shopping. This is done out of convenience as they can look up products in an actual store or when they have spare time.
It has been shown that 73% of online buyers use several different channels to do their online research. This helps them to find more information and do all of the deep digging on a product that they possibly can before making a purchase.
59% of consumers will use their phone or tablet in the store to compare and find the best products and the cost. This is done to better understand what their options are and what product is the best deal among businesses.
Retail marketers that invest in personalization for their customer's shopping experience can get $20 in return for every dollar invested. This shows that customers look for personalization and tend to be loyal to retailers that provide this.
Consumers, on average spend 79 days gathering information about a product before actually purchasing it.
60% of consumers will start their research on a search engine rather than a website. This will then take them to the websites with the items that they are looking to buy.
88% of consumers end up making their final purchase in a physical store. This is done after they have done their research on the item online and compared it to other available alternatives.
The research shows that 79% of consumers feel empowered when they can do online research about products. It gives them the ability to spend their money more wisely and pick out the best options.
72% of customers are more likely to trust reviews online rather than the actual retail website. These reviews are used to help the customer decide if the product is the right option for them.
Consumers Are More Likely to Make a Purchase After Calling
Consumers who are researching products online have a 39% chance of making a call to the company. Because most buyers are doing research on their mobile device, this is an easy way for them to get more information about a product.
Research has shown that the most likely price range for consumers to typically make a call to a company is $119. This is because consumers have a higher chance of calling a business if the item is more expensive or is a luxury item.
37% of consumers call a business using the paid search call extensions on the site. This shows that call extension ads are a great way of offering consumers the option of calling about an item with little to no extra effort.
Research shows that phone calls to businesses convert to sales 10 to 15 times more often than web leads do. This shows that consumers call when they are serious about making a purchase, and this is the best way to convert research into sales.
30% of phone calls by consumers to businesses convert faster and more often than web leads. Calls are immediate and can provide the information that the consumer needs much faster, resulting in faster sales.
84% of most online marketers have reported that phone calls have higher conversion percentages when concerning larger orders of higher value. This shows that calls create the most profitable conversions that typically include higher-value items and products.
Retailers have reported having 25% more conversions by phone as consumers are calling with the intent to buy. This makes calls to sales converting options that retailers should take advantage of.
What Makes a Consumer Decide to Not Make an Online Purchase?
80% of consumers say that the experience they get from a company can be even more important than the products and services that it is selling. This shows that expectations from consumers are very high and can determine whether they make a purchase.
About 32% of online shoppers have said that phone calls can be one of the most irritating customer experiences. This shows that customer service channels are often in need of some work and could make or break a purchase.
Customers are less likely to buy from a company that does not create a personalized experience for them. This shows as 40% of customers purchase from retailers that create a personalized shopping experience.
65% of shoppers have admitted to not shopping from a retailer due to bad customer service. One bad experience can be enough to send customers running to other retailers to make their purchases.
84% of consumers believe that retailers could be doing more to integrate their online and offline channels. The lack of integration can sometimes be the cause for a consumer to decide to go with a different company.
Research shows that 58% of consumers will leave a website that does not contain any customer reviews or photos. This impacts sales and can result in customers moving on to other retail websites.
88% of customers believe that a detailed product page is critical to converting to sales. This means that retailers that don't prioritize product pages could be losing customers as they are looking for products.
Sources