If you want to use the Planet Fitness facilities, you may be wondering if you can use someone else's membership. Or if Planet Fitness checks IDs to make sure you are the membership holder.
These are good questions to ask before heading over to Planet Fitness, if you want to workout. This is a common question since certain Planet Fitness members can bring a guest, and you might assume that they could simply go on their own.
Keep reading to find out whether or not Planet Fitness checks IDs and if you can go without your own membership.
Can I Use Someone Else's Planet Fitness Membership to Get in?
You cannot use someone else's Planet Fitness membership to get into the gym, this is something that is not allowed. Planet Fitness will be able to see the ID of the person to who the membership belongs to as you check-in.
This means that you will be automatically given away and will not be able to enter Planet Fitness. This is a strict rule, and people are almost always caught if they try to break it.
Planet Fitness does not necessarily go out of its way to check the ID of those checking in, though it does pay attention. Planet Fitness employees will be able to see the ID checking in and will know that you're not the person in the picture.
This will result in you being asked to leave and not being allowed into the gym to work out. Every member has to have a photo ID, and if that isn't you in the photo, you can't use the gym membership as your own.
Even if someone has a black card membership, they still cannot give their ID to be used by someone else. Only that person can use that membership unless they choose to bring a guest.
Being a guest does not give you the ability to come and go as you please. The member has to be with you to show that you are their guest and can enter the gym without a membership of your own.
Can I Add Someone Else to My Planet Fitness Account?
You cannot add someone else to your Planet Fitness account, these are designed for one person and only them. Everyone who wants to use Planet Fitness must have their own membership.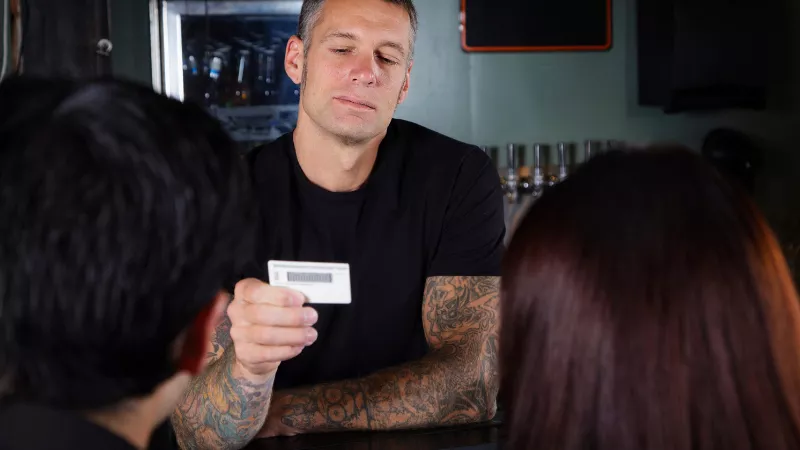 Though you can bring a guest with you each time, you visit the gym if you are a black card member. Black card members are allowed one free guest every time they visit the gym as one of their perks.
Though it is important to note that these guests can only use the gym area and none of the other Planet Fitness facilities. They also must be accompanied by the Planet Fitness member, they cannot workout alone.
Guests cannot simply take the black card members ID and get into the gym they must go with the member. Planet Fitness employees will see the ID photo and know that they're not the member.
Will Planet Fitness Check My Age?
If you want to workout at Planet Fitness, you must be 18-years-old or have the permission of a parent or legal guardian who is an adult. Planet Fitness will be able to see your age when you check in, but no employees will go out of their way to do this.
As long as the membership is yours, you can easily check-in without being stopped to identify your age. As a member, Planet Fitness employees will know that you are allowed to workout there.
If you are younger than 18, you will have already been given a parent's or legal guardian's approval while getting your membership. So there is no need for anyone to check your age afterward.
Anyone younger than 13-years-old is not allowed a Planet Fitness membership or allowed into the gym. This rule stays with or without a guardian.
Will Planet Fitness Check My ID?
Planet Fitness employees will not go out of their way to check your ID to make sure that you are the member. Though your ID will pop up with the ID photo as you are checking in.
If you are not the official member, this will give you away and show that you aren't supposed to be getting into the gym. Planet Fitness does not allow others to use memberships that are not theirs, even if they have permission.
You cannot give your membership to someone else or add anyone to your membership. Each membership is purely made for one person and can only be used by that person.
Black card members do have the option of being able to bring a guest with them, but there are some rules around this. Guests cannot use any Planet Fitness facilities except the gym area and cannot go to the gym alone.
They must be accompanied by the member holder, if they want to get into a workout. They cannot simply take the ID and get in, pretending to be a member themselves.
A big part of why Planet Fitness has a check-in is to ensure that people cannot just walk into the gym without a membership. This is also why Planet Fitness member IDs come with an ID photo that pops up.
This helps Planet Fitness employees to spot someone entering the gym who is not a member. If this happens, you will have to leave, and they will not be able to enter the gym.