If you are interested in becoming a Planet Fitness member, you may be wondering how to get a digital key tag. Or how exactly you use the digital key tag to get into the gym.
Planet Fitness is a very modern gym and has these ket tags designed for easy checking into the gym. To find out just how you can get your own digital ket tag to Planet Fitness, keep reading.
How Can I Get a Digital Key Tag For Planet Fitness Gym?
You can get your digital key tag for Planet Fitness by using your key tag number and adding it to the Planet Fitness app. This is your virtual key tag that removes the need for any kind of physical key to get into the gym.
Once you have added that key tag number, you can check into the gym online every time you want to go. This makes for an easy, fast, and touchless way of checking into the gym at any time of day.
Some locations have even gone as far as to remove the need for key tags altogether and made everything digital. Whereas you used to have to go to the front desk to get a physical key tag to scan as you came in.
The Planet Fitness app has made things much easier, and now you can get right to working out without any delays. And the best part is that you do not have to try to remember to bring your key tag.
With it online, you won't have to worry about forgetting it at home or in your car.
Can I Use The Planet Fitness App to Check-In?
Once you become a member, you will have special access to the Planet Fitness app. This will give you the ability to check-in through the app instead of having to do it once you get to the gym.
All you need to do is use your check-in code, and you will be checked in before you even get to the gym. This makes the process easier, faster, and provides a touchless option, as well.
As well as being able to check-in, the Planet Fitness app also gives you access to hundreds of free workouts and exercises. So you can utilize these options in and out of the gym whenever you like.
Anyone can download and use the Planet Fitness app, but these are benefits that only memes get. Once you are a member and create a members account, you get access to these other options on the app.
How Do I Check-in a Planet Fitness Guest?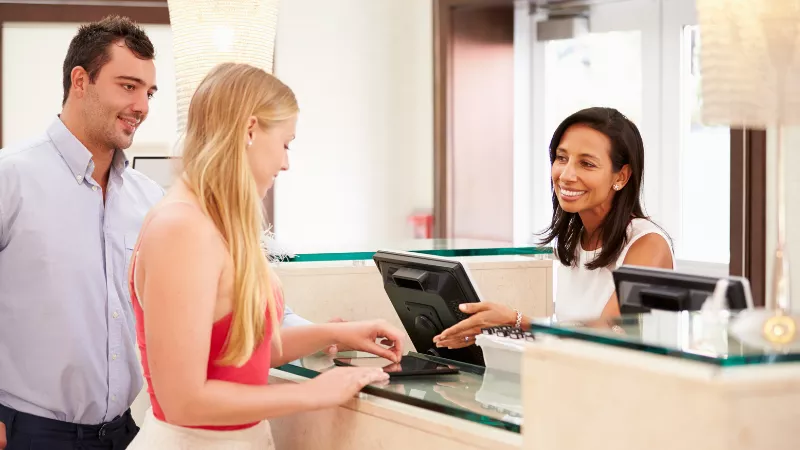 To check-in at Planet Fitness guest, you will need your guest to download the Planet Fitness app. Then you can invite them through the app, and they can sign up, this will check them in.
This allows you to easily bring a guest without being held up at the desk when you get to the gym. This is faster and easier, allowing you and your guest to get right into working out once you reach the gym.
Just keep in mind that only black card members are able to bring a guest, so you cannot invite a guest with a basic membership plan. You can also only bring one guest at a time though it can be a different person each time you go.
How Can I Get a Planet Fitness Digital Key Tag?
To get a Planet Fitness digital key tag, you will need to add your key tag number to the Planet Fitness app. This will create a check-in code that you can use to check into the gym before you even get there.
This removes the need to ever get a physical key tag at the front desk, making the process easier and faster. This also makes it so that you no longer have to worry about forgetting your key tag at home or in the car.
Now you can easily check into the gym within the app so that you can get right into your workout once you get there. You won't get held up at the front desk by having to physically check yourself in.
You can also check-in guests throughout the Planet Fitness app as well, making the process faster and easier. This is a better option than having to do it in person, which can slow you down.