Whether you have a Planet Fitness membership or are considering one, it helps to know what comes with it. You may think of Planet Fitness as a gym, but it can be a great place for tanning.
Before you go to Planet Fitness for tanning, consider the beds available. That way, you can know what to expect from your tanning experience.
What Tanning Bed Levels Does Planet Fitness Have?
Planet Fitness doesn't list tanning bed levels on its website. The specific bed levels available can vary between locations, but there are three possible levels. Many locations have level 2 stand-up tanning beds.
To use the tanning beds, you'll need to have a PF Black Card membership. But that gives you access to the tanning beds at any Planet Fitness location.
What Are Tanning Bed Levels?
Tanning bed levels refer to the specific way a bed will give you a tan. A level 1 bed uses low-pressure bulbs, and you typically spend more time in the bed. However, you have to be careful because these beds feature high UVB rays, which can damage your skin.
Planet Fitness often has level 2 beds, which share some features with level 1 beds. The level 2 beds usually have facial and arm lamps to help tan those areas of your body. They either have more low-pressure bulbs than level 1 beds, or they use some medium-pressure bulbs.
You may also find tanning beds at levels 3 through 6. These beds use a lot of bulbs and higher pressure to help you achieve a darker tan. They also can work faster, which is good if you have a busy schedule.
Can You Go to Planet Fitness Just for Tanning?
You can use Planet Fitness as your go-to place for tanning, but that's not the best way to use your membership. For one, you can't tan at Planet Fitness with the basic membership, so you'll have to upgrade to the PF Black Card tier.
Now, that tier is still somewhat affordable, and you can just tan at Planet Fitness if you choose. But you get a lot more perks with that plan, so it makes sense to use them.
If you know you only want to use Planet Fitness for tanning, you might want to look at other tanning options in your area. Depending on where you live, some tanning sessions may cost less than PF, while others will cost more.
How Much Does a PF Black Card Membership Cost?
A PF Black Card Membership costs between $20 to $25 per month. To find the exact price, you need to go to the membership page and select a home club.
If you buy the membership, you'll get plenty of extra benefits aside from tanning. For one, you can bring a guest, so you could split the cost with a friend if you go together each time.
You can also go to any Planet Fitness location for free. The membership also includes the use of massage chairs and discounts on certain drinks at the gym.
Why Tan at Planet Fitness
Tanning at Planet Fitness is an excellent option for some people. Of course, if you already go to Planet Fitness to go to the gym, you're there. You just need to add a bit of time to the end of your workout to tan before you head home.
It's also a good option if you travel a lot. The membership that includes tanning also includes access to all locations, so you can stay tan on the road.
How to Tan Safely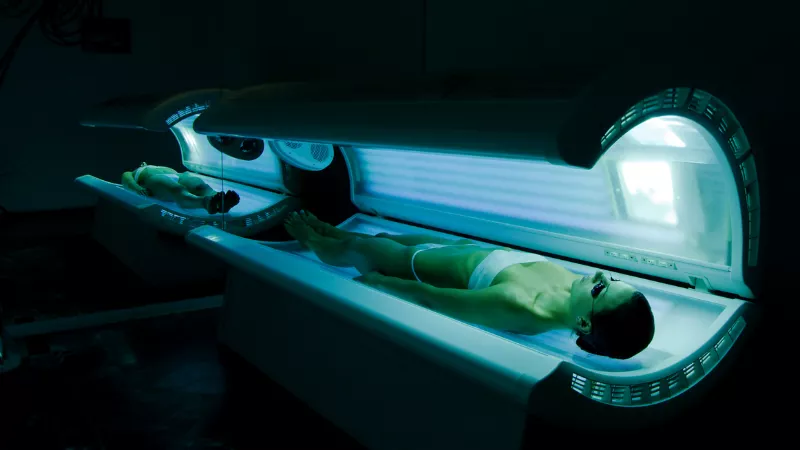 Whether you do it at Planet Fitness or elsewhere, you should be safe when tanning. If your location offers multiple levels, be sure to follow the guidelines regarding how long you stay in the bed.
You should also wait anywhere from 24 to 48 hours between tanning sessions. And try not to tan more than absolutely necessary. That way, you can minimize your skin's exposure to harmful UVB rays.
What Are the Planet Fitness Tanning Bed Levels?
Planet Fitness has various tanning bed levels, but most beds are a level 2. That level helps you get a good tan without as much risk as higher levels. However, you still need to be careful, and you'll need to purchase a PF Black Card membership to get access to tanning.