Let's talk about something we all know is crucial for surviving those long shifts on the shop floor – finding the perfect pair of shoes.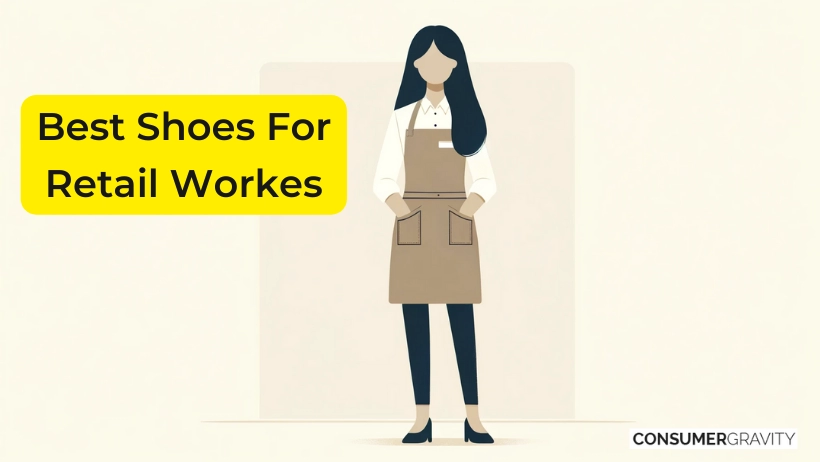 It's not just about style (though we all want to look good); it's about comfort, support, and ensuring our feet aren't yelling at us after an eight-hour shift.
So, whether you're restocking shelves or charming the customers, here are some top-notch shoe recommendations to keep your feet happy.
What type of shoes are best for retail workers?
The best type of shoes for retail workers typically prioritizes comfort, support, and durability, given the long hours spent on their feet. Here are some key features to look for:
Cushioned Insoles: Essential for providing comfort throughout the day. Shoes with good cushioning can help alleviate the stress on your feet and joints.
Arch Support: Particularly important for people with flat feet or high arches. Proper arch support can prevent foot pain and other related issues.
Non-Slip Soles: Retail environments often have slick surfaces. Non-slip soles can help prevent accidents and falls, especially in areas like stock rooms or near entrances on rainy days.
Breathable Material: Shoes made of breathable material, like certain meshes or natural fabrics, can help keep your feet cool and reduce sweating and odors.
Good Fit: Too tight shoes can cause blisters and calluses, while too-loose shoes can lead to instability and foot fatigue. Make sure to try on shoes later in the day when your feet are at their largest. The University of Michigan says a good shoe shouldn't push your toe.
Durability: Given the amount of wear they'll endure, choosing shoes made from durable materials can ensure they last longer and remain comfortable.
Style and Professionalism: Depending on the workplace's dress code, you might need shoes that are comfortable and functional and professional in appearance.
Popular choices often include sneakers with good cushioning and support, especially those designed for walking or running, and more formal options like supportive dress shoes or flats for a professional setting.
Always consider your work environment's specific requirements and challenges when choosing the best shoes for you.
List of The Best Shoes for Retail Workers
1. Furuian Indestructible Lightweight Breathable Construction Work Sneakers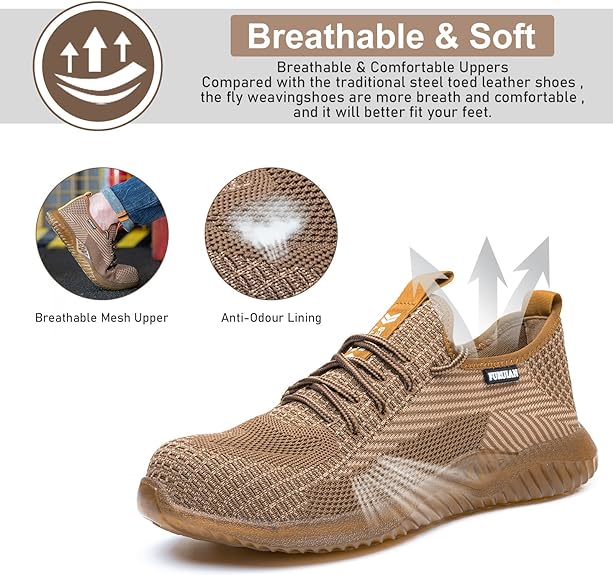 The Furuian Indestructible Lightweight Breathable Construction work sneakers are a game-changer for retail or construction professionals.
Imagine a shoe that combines the rugged durability needed on a construction site with the lightweight comfort of your favorite sneakers – that's what these shoes offer.
Their unique design includes steel toes for protection and a breathable fabric that keeps your feet cool even during the longest shifts.
They're not just functional; they have a sleek, modern look that makes them suitable for both work and casual wear.
What sets these sneakers apart is their attention to foot health and comfort.
They feature a cushioned insole and a flexible sole that adapts to your foot's movement, reducing the strain on your feet, ankles, and knees.
This makes them ideal for those who spend long hours on their feet. The non-slip sole is also a standout feature, providing extra safety in various work environments.
Lightweight yet sturdy, these sneakers are designed to withstand the rigors of daily use without weighing you down.
Pros:
Steel toe for maximum protection
Breathable fabric for comfort
Cushioned insole for extended wear
Flexible and non-slip sole
Suitable for work and casual use
Stylish design
Cons:
May require a break-in period
Limited color options
May not be suitable for extremely wet conditions
2. LARNMERN Non-Slip Work Sneakers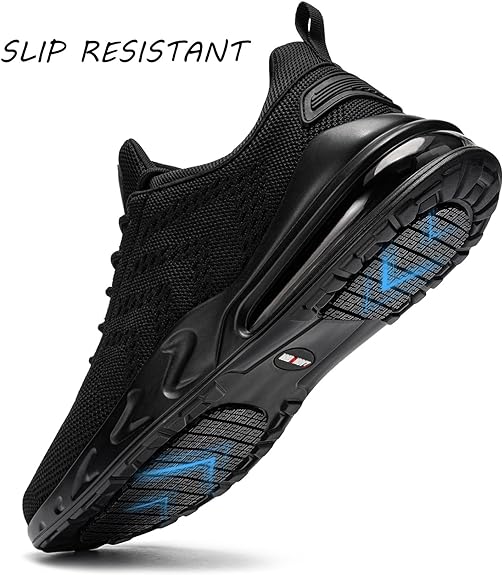 The LARNMERN Non-Slip Work Sneakers are a stellar choice for anyone needing reliable, comfortable footwear for long work hours.
These sneakers are designed with a focus on safety and durability, featuring water-resistant capabilities that make them ideal for environments where spills and wet conditions are common.
The non-slip aspect is particularly crucial, offering excellent grip on slippery surfaces – a must-have for anyone working in food service, healthcare, or retail settings.
Comfort hasn't been overlooked in these sneakers.
They come with an air-cushioned sole, providing comfort and excellent support for those spending long hours on their feet.
The cushioning system helps absorb shock and reduces strain on the feet and legs.
They are also praised for their versatility – sleek enough for professional environments but durable enough for more demanding physical tasks.
The slip-on design adds convenience, making them easy to put on and take off, which is a great feature for those with busy, on-the-go lifestyles.
Pros:
Non-slip sole for enhanced safety
Water-resistant, suitable for wet environments
Air-cushioned sole for comfort and support
Versatile design for professional and physical work settings
Convenient slip-on style
Cons:
May have limited breathability due to water-resistant material
Style may not suit all professional environments
The fit might vary, so it's important to check sizing carefully
3. LUPWEE Steel Toe Shoes for Men and Women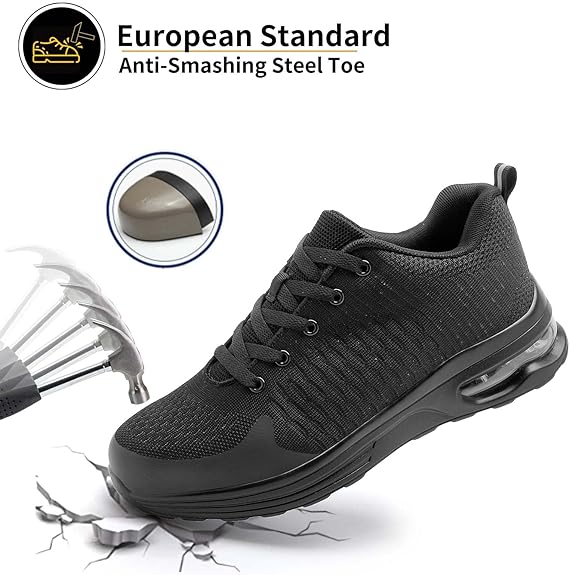 The LUPWEE Steel Toe Shoes strike an impressive balance between safety and comfort, making them an excellent choice for professionals in industries like construction and warehousing.
These shoes stand out with their steel-toe design, providing robust protection against potential hazards.
But what's truly remarkable is how they are puncture-proof without sacrificing comfort.
This makes them a safety requirement and a pleasant wear for long, demanding workdays.
The sneakers feature a specialized work insole, which indicates a thoughtful design aimed at those who spend hours on their feet.
The insole likely offers additional support and cushioning, reducing foot fatigue and discomfort.
Another noteworthy feature is the slip-resistant aspect, ensuring stability and safety on various surfaces.
These sneakers are designed to be indestructible, suggesting a durability that can withstand the rigors of industrial or construction work environments.
The style seems versatile enough to suit both men and women, making it a practical choice for diverse work teams.
Pros:
Steel toe for maximum safety
Puncture-proof design
Specialized work insole for added comfort
Slip-resistant for enhanced stability
Durable construction
Suitable for both men and women
Cons:
May be heavier due to steel toe
Style might not appeal to all
Limited color and design options
4. Lightweight Indestructible Comfortable Industrial Construction Shoes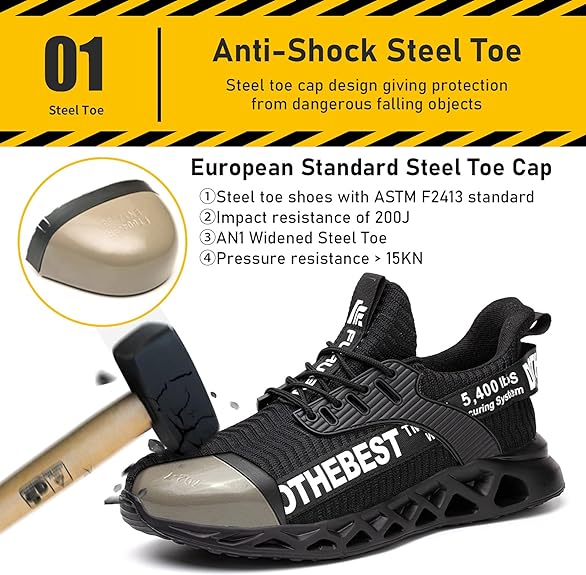 These Lightweight Indestructible, Comfortable Industrial Construction Shoes are designed for hardworking individuals who value safety and comfort.
The key feature of these shoes is their steel toe, which provides essential protection in a construction or industrial environment.
They are constructed to be lightweight, a boon for those who spend long hours on their feet.
This design choice reduces the fatigue that often comes with heavier safety footwear, making them suitable for extended wear.
The shoes are also noted for being puncture-proof and slip-on, adding convenience and safety.
Their puncture-proof nature further enhances the comfort factor, ensuring that the feet are safe from underfoot hazards.
The slip-resistant quality makes them suitable for various work conditions, including those where surfaces may be slick or unstable.
Combining these features with a breathable design, these shoes offer a comprehensive safety and all-day comfort solution.
Pros:
Steel toe for optimal protection
Lightweight design for reduced fatigue
Puncture-proof for additional safety
Slip-resistant for varied work environments
Breathable material for comfort
Convenient slip-on design
Cons:
May lack the robustness of heavier safety shoes
The fabric may scuff or break quickly in harsh conditions
Style and design may not suit all preferences
5. SUADEX Indestructible Lightweight Slip-Resistant Construction Shoes
The SUADEX Indestructible Lightweight Slip-Resistant Construction Shoes are a marvel of modern footwear technology, offering unparalleled protection and comfort.
Boasting an ASTM-certified steel toe cap and a bulletproof Kevlar midsole, these shoes are designed to safeguard your feet from hazards, including sharp objects and heavy impacts.
The rubber sole ensures durability and slip resistance, making it ideal for challenging work environments.
Despite their robust construction, these shoes are surprisingly lightweight and comfortable, owing to their soft inner material and sweat-absorbing capabilities.
Users have praised these shoes for their balance between protection and comfort.
They are particularly beneficial for individuals working in demanding construction, auto-manufacturing, and warehousing conditions.
The shoes' ability to withstand harsh environments while maintaining comfort is a standout feature.
They are noted for being easy to clean and maintaining their integrity even after washing. Although the slip-on design with decorative laces has received mixed feedback, most users appreciate its convenience.
Pros:
Steel toe cap and Kevlar midsole for enhanced protection
Lightweight and comfortable
Slip-resistant and durable rubber sole
Suitable for a variety of tough work environments
Easy to clean and maintain
Breathable and sweat-absorbing inner material
Cons:
Some users find the slip-on design a bit challenging
A few reports of inconsistent quality between pairs
Limited cushioning as noted by some users
The steel toe cap may be felt on the inside by some wearers
6. Avia Slip-Resistant Restaurant Service Sneakers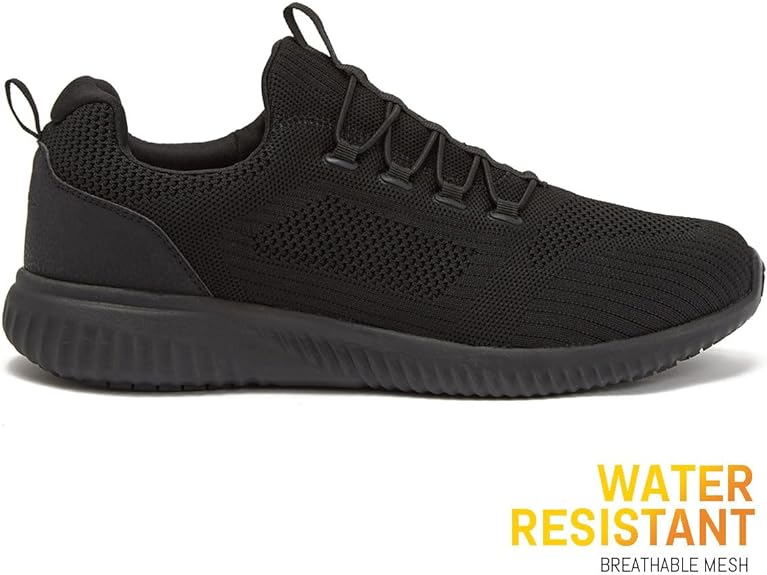 The Avia Slip-Resistant Restaurant Service Sneakers are a reliable choice for professionals in the food service industry.
The key feature of these shoes is their slip-resistant rubber soles, which provide enhanced grip and stability, crucial for slippery environments like kitchens and restaurants.
Tested in accordance with ASTM F2913 standards, these shoes are practical and prioritize safety.
The breathable engineered knit and synthetic outer material add to their appeal, ensuring your feet stay cool and comfortable during long shifts.
These sneakers are designed with a removable memory foam insole that includes arch support, responding to the unique curves of your foot for a personalized fit.
This aspect is especially appreciated by users with foot issues like bunions or heel pain.
The slip-on design with gore laces offers easy wear, and the compression-molded EVA midsole contributes to the shoe's shock absorption capabilities.
Users have noted their satisfaction with the shoe's comfort, elegant design, and effective slip resistance, even in wet conditions.
However, some have mentioned the need for additional cushioning or insole replacements for enhanced comfort.
Pros:
Slip-resistant rubber sole for safety in slippery environments
Removable memory foam insole with arch support
Lightweight and breathable material
Stylish design with effective slip resistance
Easy slip-on with gore laces
Good for wide feet
Cons:
Some users found the fit to be loose
The insole may require additional cushioning for some users
Decorative laces, not adjustable for a tighter fit
Minor durability issues reported by a few users
7. Skechers Women's Ghenter Bronaugh Work Shoe
The Skechers Women's Ghenter Bronaugh Shoes are popular for women working in demanding, on-their-feet professions such as food service.
These shoes feature a 100% mesh fabric upper, ensuring breathability and comfort during long shifts.
The air-cooled memory foam insole is a standout feature, providing cushioning and reducing foot fatigue.
The relaxed fit design also offers ample room for toe movement, adding to the overall comfort.
One of the key benefits of these shoes is their slip-resistant rubber sole, which is tested following the ASTM F1677-2005 Mark II testing standard.
This makes them particularly suitable for potentially slippery environments like restaurant kitchens.
Users have praised these shoes for their consistent fit, comfort, and support, noting that they are ideal for those who spend a lot of time standing or walking.
While some users desire more padding or cushioning, particularly for knee relief or plantar fasciitis support, the overall response has been positive.
The shoes are also commended for their durability, with some users mentioning their long lifespan even with regular use.
Pros:
Air-cooled memory foam for comfort
Breathable mesh fabric upper
Slip-resistant sole meeting ASTM standards
Roomy, relaxed fit
Durable for long-term use
Suitable for wide feet
Cons:
Some users desire more cushioning or thicker soles
May not provide adequate support for specific foot conditions like plantar fasciitis
8. Avia Avi-Union II Non-Slip Shoes for Men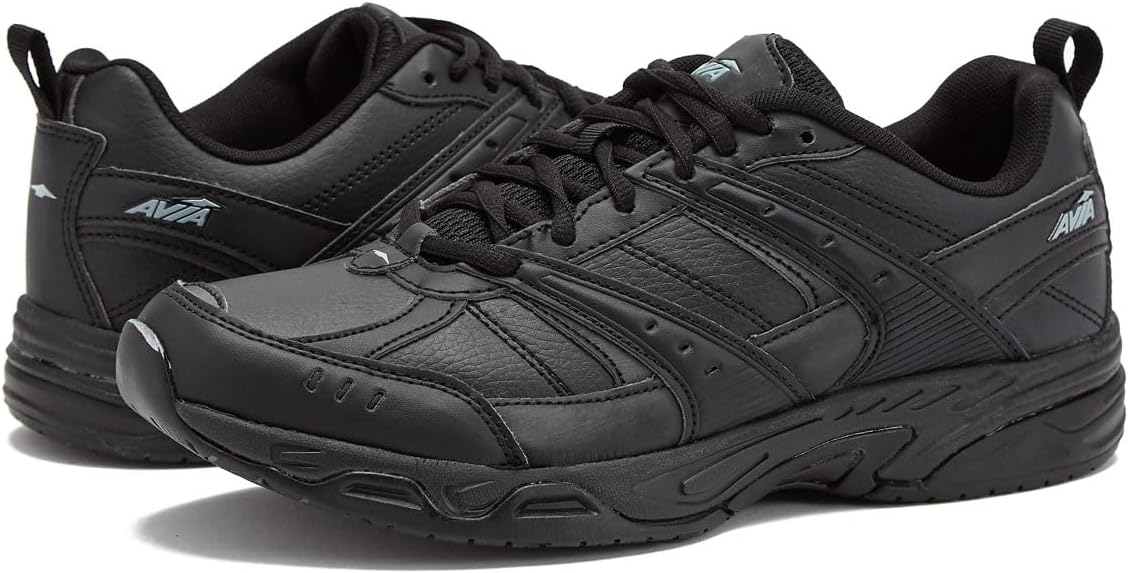 The Avia Avi-Union II Non-Slip Shoes for Men are designed with the needs of working professionals in mind, especially those in the food service and healthcare sectors.
These shoes boast a thick rubber sole with an oil and slip-resistant tread pattern, ensuring enhanced grip and balance in potentially hazardous environments.
The man-made fabric construction of the shoe emphasizes durability, while the machine-washable care instructions add a layer of practicality for busy workers.
A key feature of these shoes is the removable memory foam sock liner, providing critical pressure point relief and adapting to the unique curves of the foot for a personalized and comfortable fit.
The compression-molded EVA midsole and Avia's Cantilever Technology offer additional support and shock absorption, making them suitable for long hours of standing or walking.
While users have generally praised the shoe's comfort and support, some have noted that they run small in size, suggesting the need to order a half size up for extra toe room.
Pros:
Oil and slip-resistant rubber sole for safety
Removable memory foam sock liner for comfort
Suitable for long shifts and hard surfaces
Durable man-made fabric construction
Easy to clean and maintain
Good for a variety of workplace settings
Cons:
Some users found the sizing to run small
May not be as wide as expected for wide-footed individuals
Limited information on long-term durability
9. Abboos Women's Slip-On Sneakers
The Abboos Women's Slip-On Sneakers cater to women's active lifestyles.
These sneakers feature durable knitted uppers that are both flexible and breathable, making them ideal for all-day wear.
The lightweight design is a significant plus, ensuring that the shoes do not add unnecessary weight keeping your feet comfortable and fresh.
Whether for jogging, cycling, hiking, or just casual wear, these shoes are versatile enough to fit a variety of occasions.
Comfort is a key aspect of these sneakers, as evidenced by the soft insole that provides excellent protection for ankles and feet.
The insole's design aims to reduce pressure points, crucial for prolonged wear.
The anti-slip rubber outsole also offers shock cushioning and anti-distortion properties, making these shoes safe for more vigorous activities.
The fashion-forward design of these sneakers is another highlight, making them a stylish choice that can be matched with various types of clothing.
Pros:
Breathable and lightweight knitted upper
Versatile for various activities and occasions
Comfortable insole with good ankle and foot protection
Anti-slip and shock-absorbing rubber outsole
Fashionable design suitable for various outfits
Easy slip-on design with lace for stability
Cons:
Some users found them slightly short in size; sizing up may be necessary
A few users noted a lack of cushioning and support
Durability over long-term use is not clear
10. LARNMERN Sneakers Kitchen Restaurant Slip-Resistant Shoes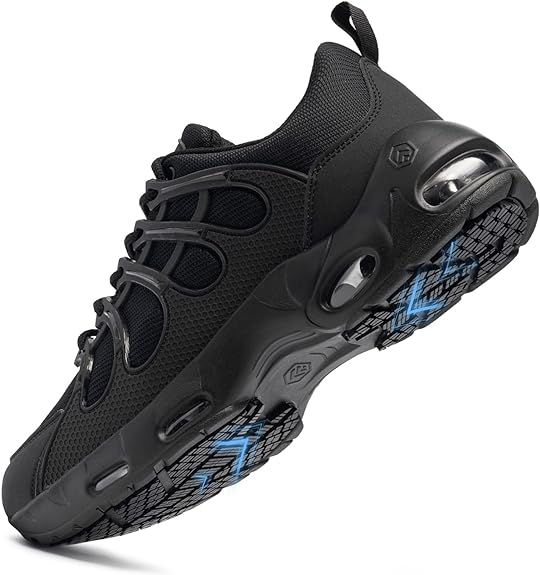 The LARNMERN Sneakers for men are designed to offer style and functionality, making them suitable for various work environments, particularly in kitchens and restaurants.
A standout feature of these shoes is their DURA-ANTISLIP outsole, specifically engineered to provide superior slip resistance by effectively channeling away liquids like oil and grease.
This feature is crucial for ensuring safety in slippery work conditions.
Additionally, the shoes are equipped with a shock-absorbing system and enhanced air cushioning, offering a lighter feel and exceptional support, ideal for those who spend long hours on their feet.
In terms of comfort, these sneakers boast a soft and light sole, with the insole designed to provide responsive cushioning and support.
This makes them a good choice for all-day wear at work or during casual activities.
While they are praised for their non-slip properties and overall comfort, some users have noted that the shoes might require a break-in period and tend to run small in size.
Ordering a half size up is suggested to ensure a comfortable fit.
The shoe's design has been compared favorably to more expensive brands, with users appreciating its sporty look and versatile use.
Pros:
Superior slip resistance with DURA-ANTISLIP outsole
Shock-absorbing and air-cushioned for comfort
Suitable for long-standing periods
Stylish and versatile for work and casual wear
Generally comfortable for all-day use
Cons:
May require a break-in period for optimal comfort
Sizes tend to run small; ordering a half size up is recommended
Some concerns about the durability and quality of materials
Insoles may not provide sufficient support for some users
How To Choose A shoe for retail work
If you're in retail, you know how crucial it is to have the right shoes.
You're on your feet all day, so let's find a pair that keeps you comfy and ready to tackle your shift with a smile. Here's what you need to think about:
Comfort is King
First things first, comfort is non-negotiable. Look for shoes with good arch support and cushioning.
Your feet will thank you after a long day of standing and walking.
Durability Matters
You want a shoe that can keep up with you, right? Durable materials mean your shoes won't give up before your shift ends.
Plus, you won't have to shop for new ones every few months.
Safety First
In retail, spills happen. So, slip-resistant soles are a must. They keep you safe on wet or slick floors.
No one wants an unplanned slip-n-slide adventure at work!
Fit is Fundamental
Make sure the shoe fits well. Too tight, and you'll get blisters, too loose, and you'll be tripping over your own feet.
A snug, but not tight, fit is what you're aiming for.
Style Counts
Okay, we all want to look good, even at work.
Find a shoe that's practical and matches your work attire.
You can be comfortable and stylish!
Breathe Easy
Your feet need to breathe to stay fresh. Look for shoes with breathable material.
It's a small detail that makes a big difference in how your feet feel at the end of the day.
Budget-Friendly
Last but not least, consider your budget.
You don't have to break the bank to get good shoes.
There are plenty of affordable options that still tick all the right boxes.