Before going to Planet Fitness, consider if you need to wear anything specific. Then, you can make sure you can be comfortable at the gym.
You'll also keep from having to go and change before you come back. Whether you want to save time or work out on your way home from work, you should know the dress code rules.
What's the Planet Fitness Dress Code?
Planet Fitness doesn't have a ton of dress code rules, but there are some. Like many gyms, they don't allow anything that may damage the machines. You can't wear anything that will affect your safety, such as open-toed shoes.
While it's not a rule, the club also asks members don't wear anything offensive, revealing, or intimidating. But they still want you to be able to express yourself.
Sports Bra
Planet Fitness doesn't have any rules against wearing sports bras. However, you shouldn't wear just a sports bra if it will be revealing.
For example, if you pair the sports bra with low-rise workout shorts, that can be a problem. But if you wear shorts or pants that come up higher on your torso, it may be okay.
Of course, you can wear a sports bra under any other top. That way, you can be comfortable as you exercise.
Shorts
Like sports bras, Planet Fitness doesn't tell you that you can't wear shorts. Wearing shorts can be an excellent option to help you get active and be more flexible, especially compared to pants.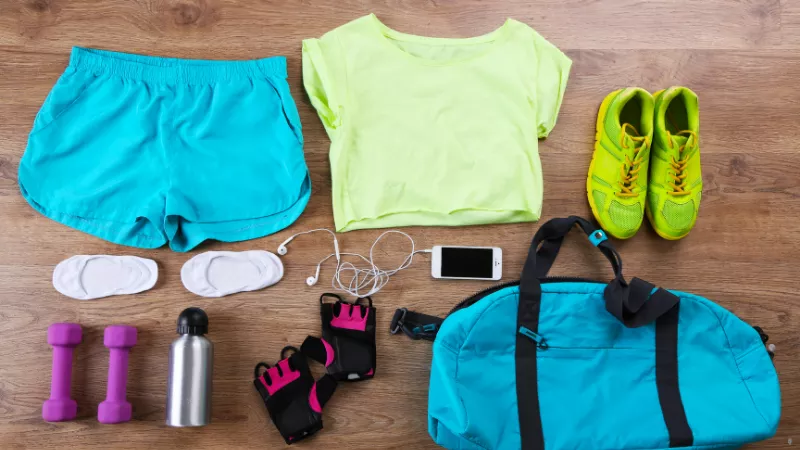 If you wear shorts, they shouldn't be too short. When they're too short, they can be revealing or even potentially somewhat offensive to people.
Make sure the shorts will cover your bottom and a few inches of your legs. That way, you can move in them and not reveal anything.
Tank Top
You should be able to wear a tank top at Planet Fitness without any issues. As with other clothing, be sure it isn't too revealing.
If you want to wear a tank top with writing or a design, consider what's on it. The gym won't allow offensive or intimidating clothing.
Avoid anything that has bad words or threatening or scary phrases or images. Then, you can keep your fellow members comfortable.
What Shoes
Planet Fitness doesn't allow sandals or open-toed shoes. Tennis shoes or another type of athletic shoe is an excellent choice.
While dress shoes may not break the rules, you probably don't want to wear them. You could wear them into the gym, but bring a pair of sneakers to wear while you exercise.
Jeans
If you wear jeans to Planet Fitness, you'll want to bring an extra pair of bottoms. The gym doesn't allow jeans or any other pants with "prominent grommets."
You might catch the grommet on something, which can affect your safety. Instead, choose smoother pants, like athletic pants or leggings.
Plus, those items are more flexible, so they're better for workouts anyway. If you have to come in jeans, change in the locker room and keep your jeans in a locker.
Dirty Clothing
Regardless of the item, Planet Fitness doesn't allow you to wear dirty clothing. For one, it doesn't look very good, though that's not a huge deal.
However, dirty clothing can affect you and the machines you use. If your pants have mud all over them, you can track that mud through the gym. People might trip, and it can be hard to clean up.
Grease on a shirt may drip off and get on the belt of a treadmill. That can make the treadmill slippery and unsafe for you and the next person to use. So make sure you wear clean clothes to keep yourself safe.
Messaging on Clothing
As you decide what to wear to Planet Fitness, think about the items specifically. Graphic tees and clothing with designs can be great. You might not be able to wear them to work, so they could become athletic wear.
However, remember that Planet Fitness prohibits clothing that's intimidating or offensive. When it comes to messaging, the gym doesn't allow items with messages that would offend a "reasonable person."
That means it's safe to assume you can't wear a shirt with the F word, for example. You also can't wear shirts that encourage violence or that make threats against someone. If you aren't sure if something is acceptable, assume it's not, and choose something more basic.
Water Bottles
While this isn't technically a clothing item, it's worth noting as part of the Planet Fitness Dress code. The gym does allow you to bring a water bottle or jug, and there aren't any size restrictions.
However, your water bottle has to have a screw-on top. Bottles with push-on tops aren't as secure, so they can spill more easily if you knock over the bottle.
You can look for a good water bottle at a sporting goods store. Another option is to buy water when you get to Planet Fitness. If you plan to go often, though, bringing your own bottle will be more affordable in the long run.
Dress Code for Employees
While there's a pretty informal dress code for members, employees have stricter requirements. If you want to work at Planet Fitness, you should know what you can expect to wear.
That way, you can prepare and get the items you need. And you can make sure you have the right clothing before your first shift.
MSRs and Managers
Standard employees (not trainers) and managers will wear a Planet Fitness shirt. As a regular employee, you'll start off with a purple shirt. You will get a purple polo to wear after you've had your job for three months.
After about a month, Planet Fitness will give you a sweater or jacket to wear if you get cold. You will need to wear khakis with the purple shirt.
If you ever advance to a management role or switch to maintenance, you will get a black Planet Fitness shirt to wear. Khakis are also a requirement for these employees. All non-trainer employees will have to wear dress shoes with their uniform.
If you get cold and don't have a company jacket, you can wear a white, black, or gray long-sleeved shirt under your uniform top.
Trainers
Personal trainers at Planet Fitness have slightly different uniforms. Of course, they have to be able to do some physical activity, so they can wear black sweatpants instead of khakis.
If you're a trainer, you'll get a uniform shirt, and it will be different from what the front desk and managers wear. Like other employees, you can wear a long-sleeve shirt under your uniform if you want to stay warm.
You can wear a headband to keep your hair back. However, it has to be a solid color. Black or white would be ideal since they're neutral colors, and black is part of the gym's branding. As far as shoes go, you can wear tennis shoes since you'll be pretty active at work.
What Is the Dress Code at Planet Fitness?
The dress code at Planet Fitness is pretty forgiving, but the biggest thing is to avoid wearing items that are revealing or offensive. You should also keep from wearing clothing that can get caught or otherwise affect your safety. If you want to work there, you'll receive a uniform shirt to pair with khakis or sweatpants.