If you are going to be working at Walmart for the first time, you may be wondering what the dress code is for shoes. Does Walmart have a dress code for footwear and if so, what is the dress code, and what shoes are allowed?
These are all important questions to ask to ensure that you are dressed in the right way when you go to work. Especially if you are a new hire and want to get started off on the right foot per se.
Keep reading to find out what the dress code at Walmart is around footwear.
What is Walmart's Dress Code for Shoes?
As far as companies go, Walmart is rather relaxed with its dress code and does not have an overly strict list of rules for footwear. Walmart asks that employees wear any type of sneaker rather than dress shoes or formal shoes to work.
Walmart's focus is mainly on functionality rather than how the shoes look. This is important as many Walmart employees tend to do labor-intensive jobs and need to be wearing good shoes.
It really only asks that employees wear casual sneakers or tennis shoes that are practical and comfortable. After all, employees cannot do their job properly if they aren't wearing the right kinds of shoes.
Walmart's entire dress code is made to be this way, encouraging employees to be comfortable. As long as they are clearly Walmart employees, Walmart doesn't care too much about how you look.
You simply need to be easily identifiable and look put together, you are not required to dress up or look immaculate. Especially when it comes to shoes that you will be wearing for your entire shift.
Does Walmart Allow Open-Toed Shoes for Employees?
As far as opened-toed shoes go, Walmart is strictly against these options. This is for a number of reasons that the company has not necessarily said, but it is clearly implied.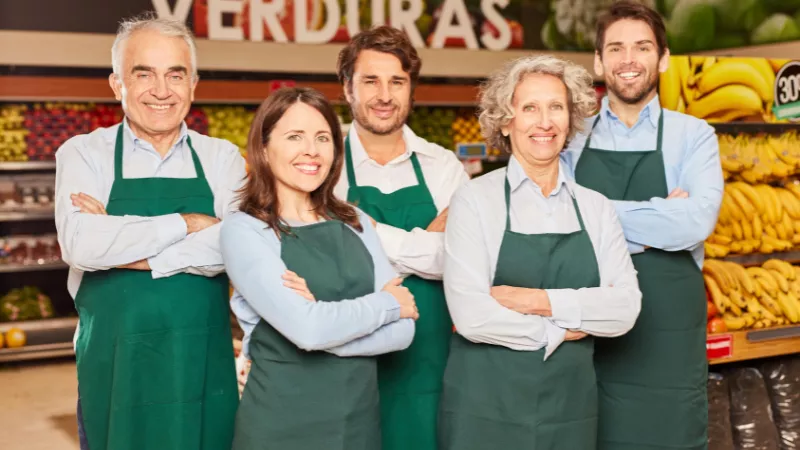 Though Walmart does not give a detailed list of the shoes that you are allowed to wear, it does restrict open-toed shoes. These options are not part of the dress code and pose a number of issues for employees.
Allowing employees to wear shoes that have opened toes poses all kinds of issues such as:
Hygiene issues
Unprofessional appearance
Exposure to more injuries
Tripping hazards
The shoes that are strictly prohibited are crocs and sandals. Both options are considered to be open toes and just don't work in this kind of working environment.
Though any kind of opened tope shoe should be considered as not being allowed even if not directly mentioned. This is to protect and help you as the employee as it is just best to keep your feet entirely covered at work.
What is Walmart's Dress Code?
Walmart's entire dress code is pretty relaxed and leaves a lot of room for creativity. It even removed the necessity for employees to wear khakis, a rule that it used to have since first opening its doors.
Now the dress code at Walmart is even laxer and gives you plenty of room to dress comfortably and neatly. The only true piece of uniform that you have to wear is the Walmart shirt to help identify you as a staff member.
You can wear blue jeans, chinos, cargo pants, and skirts with your Walmart shirt as long as they are not distressed, ripped, or bedazzled. You cannot wear any loungewear or athletic bottoms such as yoga pants, however.
These rules allow you to dress how you like and feel the most comfortable.
Does Walmart Have a Footwear Dress Code?
Walmart does have a footwear dress code that all employees are required to follow. Though these rules are not at all strict and are simply used as rough guidelines to help you dress appropriately for the job.
Walmart asks that employees wear sneakers that are comfortable to work. This allows them to do their job without pain or worrying about ruining their good shoes. Open-toed shoes are not allowed, so the shoes must be fully converting your foot.
These are the only rules about footwear for Walmart employees. Its dress code is very relaxed and allows its employees to dress comfortably and practically.
After all, there is no point in dressing up if you are going to be doing manual work all day.