If you are moving with U Haul and you need a trailer rather than a U Haul truck, you may be wondering if they track mileage on trailers. You probably already know that U Haul tracks mileage on U Haul trucks. However, you're wanting to know if they track mileage on trailers. Let's find out.
Does U Haul Track Mileage for Trailers?
No, trailers have unlimited mileage. U Haul does not have a way of tracking mileage on trailers. So if you rent a trailer you will not be charged mileage at all. This can be a great option for those who don't want to worry about mileage.
Does U Haul Use GPS on Trailers?
No, U Haul does not use GPS or any sort of tracking device on any of their trailers. If they did, they wouldn't have to go out looking for overdue equipment. When you don't turn equipment in on time, U Haul has no idea where that equipment is but they will send someone out to look for it.
Some people think that all U Haul equipment has GPS or some sort of tracking device on it but this isn't true. If they did they could go right to their own equipment when a person fails to return it. Instead, they have to look for it or wait for the person to turn the equipment back in.
The same is true of the U Haul trailers. The mileage can't be tracked on trailers and neither can its location. It's almost like U Haul is placing their equipment in your care, trusting you to just do the right thing.
Use the equipment the way in which it is meant to be used, and then return it. It is that simple. Please don't make U Haul have to go on a bounty hunt just to receive their things.
How Fast Can You Go With U Haul Trailer?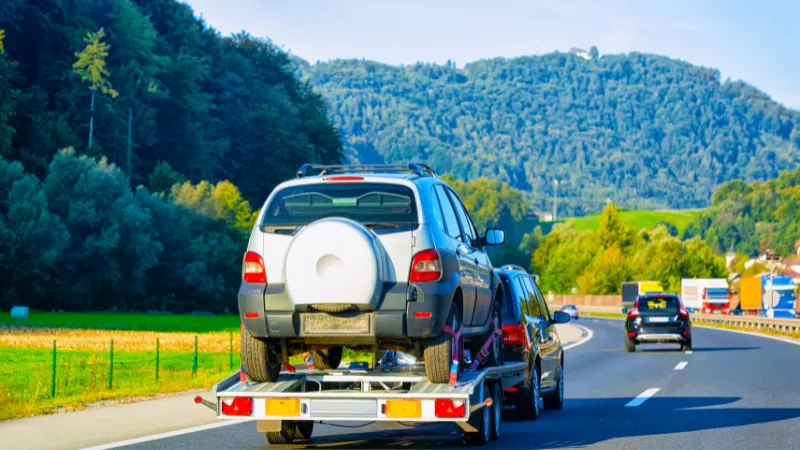 You aren't supposed to go over 55 mph with a U Haul trailer. Some people do but that's not safe so I definitely wouldn't recommend it. U Haul trailers have speed limits for a reason.
Driving with a trailer on the back of your vehicle is something different. It is not the same as driving without it I can assure you of that much. Going faster than 55 mph with a U Haul trailer or any trailer on the back of your truck, can be hazardous to your help.
It would be pretty hard to maintain control of a trailer that is going over 55 mph. It may start swinging all across the road and it can be hard to slow it down if you have to stop suddenly. This could not end well for you.
How Many Miles Do You Get on a U Haul Trailer?
You get an unlimited number of miles when you are renting a U Haul trailer. As mentioned earlier, U Haul does not track mileage on their trailers. So you can drive the trailer as far as you would like.
However, because there is not a U Haul in every location, there are places where you are not allowed to enter with a U Haul trailer. For example, you can't take a U Haul truck or U Haul trailer to Mexico because there are no U Haul facilities in Mexico.
Other than that, you can drive as much as you want or need to. The one thing you have to remember is to turn the trailer back in at the appropriate time. If you don't, U Haul will come looking for you.
A U Haul trailer may be more appropriate for you if you want to drive your vehicle to your location. And if you want to save some money, renting a trailer may be more cost efficient for you than renting a whole truck.
Do I Have a Set Number of Days to Rent a U Haul Trailer?
Yes, you have a set number of days to rent a U Haul trailer. Since the trailer does not have a mileage tracker on it, the best way to charge for this kind of a rental is to charge on a daily basis. However many days you need the trailer for, you will be charged for each day until you bring it back.
And if you don't bring it back on time, you will continue to be charged until you do. So a good rule of thumb is to return the trailer on time.
Will U Haul Track Mileage on Trailers?
No, U Haul does not track mileage on trailers at all. There is no equipment located on trailers to keep up with the mileage. So if you thought mileage was also tracked on trailers you can rest assured that the trailers do not track mileage.