U-Haul provides its customers with rental vehicles, trucks, and towing devices. The eligibility requirements depend on the vehicle or equipment you're planning to rent.
However, some customers wonder if they are still eligible for rental vehicles despite having a suspended or invalid driver's license. Here's what you need to know.
Does U-Haul Check for a Suspended License?
The answer to this question is quite tricky. U-Haul will check and require a license for rental vehicles. However, they may or may not run your license through your local DMV. This will depend on your location, dealership, and circumstance.
What You Need to Know
There can often be a gray area when it comes to rental companies like U-Haul. Not to mention, many U-Haul dealerships are independently owned, meaning they may have stricter policies and guidelines. However, here are some basics to keep you informed.
They May or May not Check Your License
U-Haul does require a physical license and ID upon signing the rental agreement. However, many customers have stated they were able to rent a truck or cargo van with a suspended license. How do these companies get away with this?
Some, if not most, U-Haul locations don't run IDs and licenses through their local DMV. Motor vehicle reports can take upwards of three days to be returned. These companies are trying to turn a profit and may not be required to check your driving record.
However, your experience will greatly depend on your location, the dealership, and your circumstance. For the most accurate information, use the U-Haul official location finder to locate a dealer near you. From there, you can call and speak with an employee to determine the rental process.
You Can Have Someone Else Drive for You
U-Haul allows its customers to use multiple drivers during their travels. However, these drivers may need to be added to the rental agreement and meet the requirements.
This means you may be eligible to rent a U-Haul vehicle with a suspended license. If you have one of your friends or family drive the car for you, you may or may not suffer consequences if you get caught.
Keep in mind that your experience will vary on a load of different factors. In no way is this legal advice, and you may still suffer repercussions if you get caught or pulled over. You'll have to decide for yourself if the risk is worth the trip.
You May Be Committing Fraud
Keep in mind that you may be committing a crime if you decide to sign the agreement and successfully rent a U-Haul vehicle with a suspended license. This will depend on your location and local jurisdiction.
However, you may suffer penalties from your local government or from the U-Haul contract. These penalties could include but are not limited to fines, jail time, felonies, revoked licenses, and more.
As always, you'll need to decide if the risks are worth the benefits for your given circumstance. In no way, shape or form is this legal advice.
What Are the U-Haul Rental Requirements?
Most, if not all, U-Haul locations will have age and ID requirements for their rental services. However, these criteria can vary depending on the vehicle you're planning to use and whether or not you're using it for business or personal reasons. Let's break this down a bit further, so you have a better idea of what to expect.
U-Haul Age Requirements
U-Haul has different age requirements in place depending on the vehicle or towing device you're planning to rent.
Moving Vehicle Rentals: At least 18 years of age.
U-Haul Trailer Rentals: At least 16 years of age.
For the most accurate information, use the official U-Haul location finder. From there, you can speak with a team member to find out whether or not you meet the rental guidelines.
What Forms of ID Are Accepted?
In most cases, you'll only need to provide a U-Haul dealer with your license. However, there have been situations where customers need multiple forms of identification. Valid forms of identification might include:
Passport
Birth Certificate
The United States issued Identification Card
Keep in mind that different dealerships will have additional requirements. Independent U-Haul stores may have varying regulations and criteria. Be sure to call your local U-Haul dealer to determine if your ID will be accepted during the rental agreement.
Do I Need a Special License?
Thankfully, you do not need a special license to drive or rent a U-Haul vehicle. A standard government-issued ID or driver's license is sufficient in most cases. Not to mention, U-Haul vehicles are not considered commercial vehicles in most states. This means you won't need a special license, certificate, or CDL to drive a U-Haul truck.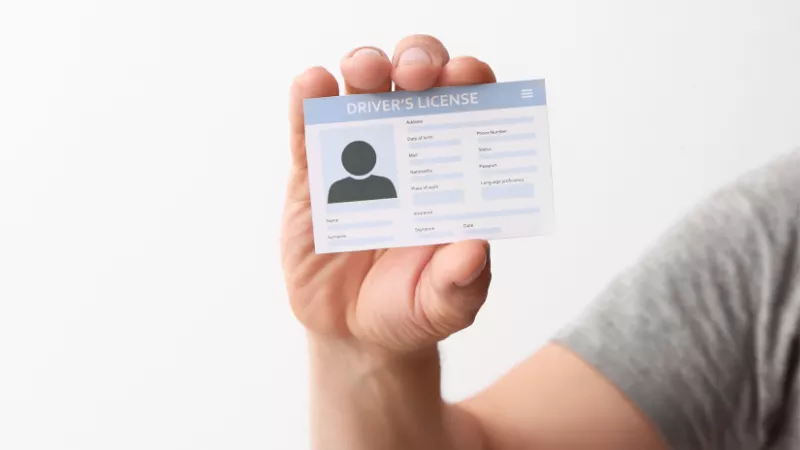 Do I Have Any Other Options?
If your license is suspended or you don't meet the rental requirements, you may still be eligible to lease a rental vehicle. Some customers have rented trucks and towing devices despite having an invalid license. However, one of your best options may be utilizing U-Hauls local moving labor program.
Use MovingHelp Instead
U-Haul provides their customers with MovingHelp if they need additional support for their travels. This service allows U-Haul customers to connect with local moving companies. You may not be required to drive the U-Haul vehicle if you utilize MovingHelp.
Also read the Does U Haul Offer Military Discount? and Does U Haul Install Brake Controllers? articles.
Benefits of MovingHelp
U-Haul provides its customers with an online marketplace known as MovingHelp. This service connects customers with affordable moving companies sorted by their overall rating, costs, and provided services.
How MovingHelp Works
To use MovingHelp, simply visit their official site and fill out the form. You'll be taken to another page where you can view local moving companies and services. After, you can select the company that fits your needs. You may need to coordinate with these businesses via phone call or email.
U-Haul claims that after you pick up your rental vehicle or towing device, you can coordinate with the local business to load, unload, and move the vehicle.
Keep in mind that your experience will vary depending on your location, dealership, moving dates, the local business you choose, and other factors. Call your local dealer to speak with a crew member for the most accurate information.
Here we answer the question: Does U-Haul Rent Dollies?
Will U-Haul Deny My Suspended License?
U-Haul may or may not deny your suspended or invalid license. Many customers have claimed to successfully rent vehicles, despite a suspended ID. However, your experience will vary depending on your circumstance. Keep in mind that renting a vehicle with a suspended license may be a contract violation and result in fines, penalties, or other severe consequences.