Not only are meal delivery services starting to become more popular, but they are also starting to become more diverse. This opens the door to more dietary options and companies that specialize in certain foods.
If you follow the carnivore diet, for instance, there are now carnivore meal delivery companies out there that you can use. These companies specialize in bringing you the best quality and diversity of meat options.
This is important as a carnivore diet is very limiting, and it can be hard to find all of the kinds of meat that you want. This is something that can be hard to do in your local grocery store where meat options are limited and not always the best quality.
You may not have access to butcher shops or be able to afford their prices. This is where carnivore meal delivery services come in to help you get all of the kinds of meat that you need.
This is an important part of the duet as you need to diversify the kinds of meat that you consume. Meal delivery companies make this easy and can help you to get what you need when you need it at a more affordable price.
Keep reading to find out what carnivore meal delivery companies are out there and which ones you should try.
1. Tru Beef
True Beef is a carbon-neutral company that provides high-quality meat to consumers. It is known for its quality and has acquired a large number of positive reviews from very happy customers.
Despite being a company that delivers meat, almost entirely, Tru Beef focuses on providing ethical meat that has been raised well. It is committed to animal welfare and ensuring that its meat is responsibly sourced for its customers.
Its meat is grass-fed, organic, and pasture-raised to provide top-quality cuts of beef. It also offers some lamb, but beef is its main priority and what it sells the most to its customers.
All of the meat at Tru Beef is of the highest quality and includes all kinds of cuts. You can even purchase as much as ¼ to ½ of an entire cow if you find that you consume a lot of beef.
It also sells organ meat, which is a huge part of maintaining the carnivore diet successfully. This is something that can be very hard to find locally or in other meal delivery companies.
You can buy beef heart, cow tongue, beef kidneys, suet, fat trimmings, cows liver, and bones with the marrow inside. This gives you all of the options that you could ask for coming from a company that knows exactly what it is doing.
You don't have to have a subscription or plan and can get discounts for recurring orders from the company.
2. Crowd Cow
Crowd Cow is a carnivore's dream as it offers a huge selection of meats to choose from that you might otherwise struggle to find. It has over 600 choices to fill a box that is completely our own and filled with the meat that you like to eat.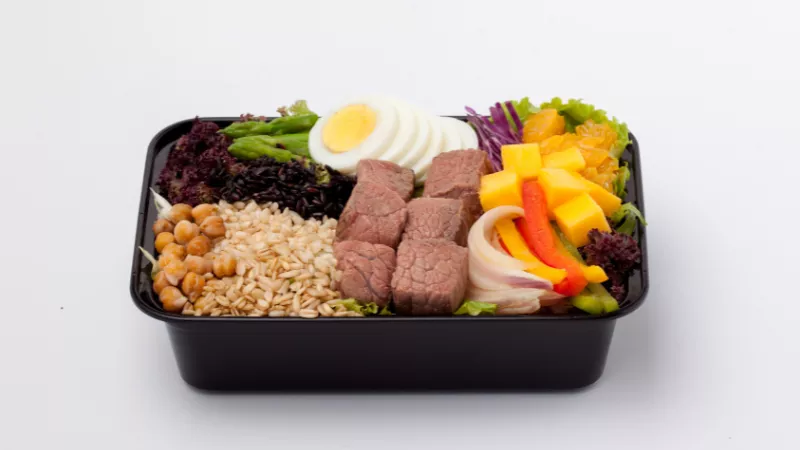 Besides creating your own box, Crowd Cow also offers fully curated boxes with all kinds of tasty options. It is one of the few meat meal delivery services that offer other options besides meat, though they are minimal.
This includes options like blueberry pancakes and elk stew for a unique option to add to your order. You can buy beef, chicken, pork, duck, lamb, turkey, seafood, and Wagyu here, all of the highest quality.
The price is per pound and is easy to calculate as you place your order, making staying on budget simple to do. You also have options like grass-fed and pasture-raised for more ethical options if you are concerned about the animals.
One of the best things about Crowd Cow is that it shows you where your meat is coming from. This allows you to see where it was raised, even down to the farmer that took care of it.
3. Meal Pro
Meal Pro is a great option for anyone who follows the carnivore diet but also takes breaks or has chat days. This is because it has a wide selection of carefully curated meals that are ready to heat and eat.
The Meal Pro meals are highly customizable with a heavy focus on protein. This allows you to still eat meat-heavy meals while still mixing it up. It doesn't have a lot of carb options as it focuses on the meat and not other food sources.
You can also order bulk protein options if you aren't taking a break from the carnivore diet. It features bulk shrimp, chicken, and beef, perfect staples for any carnivore's diet.
You also do not have to have any kind of subscription or go by any plan when ordering from Meal Pro. You can create your own order with the 18 or 20-meal box, depending on how much food you want.
4. Butcher Box
Butcher Box is a meat lover's dream, especially if you are following the carnivore diet. All of the meats here are grass-feeds, free-range, and certified as being humanely raised and killed.
Butcher Box also features a selection of freshly caught seafood that is sure to have been caught sustainably. Like some other meat meal delivery services, Butcher Box tries to keep its food ethical and sourced responsibly.
The value of meat that you get from Butcher Box is unmatched and will provide the best-tasting dishes for your diet. It has different boxes that you can choose from to get different kinds of meat as well as different cuts.
This comes to you in bulk, and the meat can be safely and effectively frozen in the packaging that it comes in. This allows you to stock up your supply to eat from for several weeks or even a few months.
Butcher box features all of the best cuts of meat as well as options that grocery stores might not always have available. The cost is very affordable, more so than grocery stores and butcher shops, considering the quality that you are getting.
The more you order, the more affordable your box is going to end up being.
5. Moink Box
Moink Box is a great place to order ethically sourced meat if you are trying to consume your meat more responsibly. It is sourced from family farms where the meat has been humanely and naturally raised before getting to you.
This is a subscription service, so you do have to make a commitment when buying from Moink Box. Though cancellation is easy if you decide that you don't like the subscription or end up having more meat than you can handle.
At Moink Box, you have two box options to choose from when ordering, this includes one with pork and one that doesn't have pork. Each box changes every month as new meats are added and changed up to keep things interesting.
This makes the Moink Box ideal for those who enjoy eating all kinds of meat. If you are picky about the meat you eat, this may not be a good fit for you.
Though you can make substitutions within your box if you spot one or two meats that you really don't want to receive. You just have to keep your eye on it, otherwise, your box will be automatically sent to you.
Each box contains about 10 to 15 pounds of meat and costs $160 on average, though this can change slightly depending on the meat options. This is an ideal option for anyone following the carnivore diet as your subscription will come to you like clockwork, so you don't have to stress about forgetting to place your order.
6. Home Chef
Home Chef is a very popular meal delivery service that actually does specialize in meals, though it does offer some carnivore options. You can customize meals to make them completely, full of meat if you like.
Home Chef also sells carnivore protein packages filled with different cuts of the best quality meats. This is perfect for those who are not 100% on the carnivore diet as you can still eat mostly meat but with a bit of customization.
You can make your meals mostly meat, while still indulging in other options with each meal. Home Chef sells meal kits, which are customizable so you could replace everything that you don't want to eat.
It is great if you are busy and don't have time to plan your meals. They come to you ready to go and be cooked when you decide to eat them. If your meal is made up mostly of meat, you could also freeze it for later as meat freezers very well.
As far as meal delivery services go, Home Chef offers a wide variety of meat options to tempt your taste buds. You can get the premium protein pack which includes every cut of meat that the company has to offer as well.
Overall, it is a great option if you want some different options that aren't strictly meat and organs.