It is no secret that DoorDash sucks but why they suck is an entirely different ball game.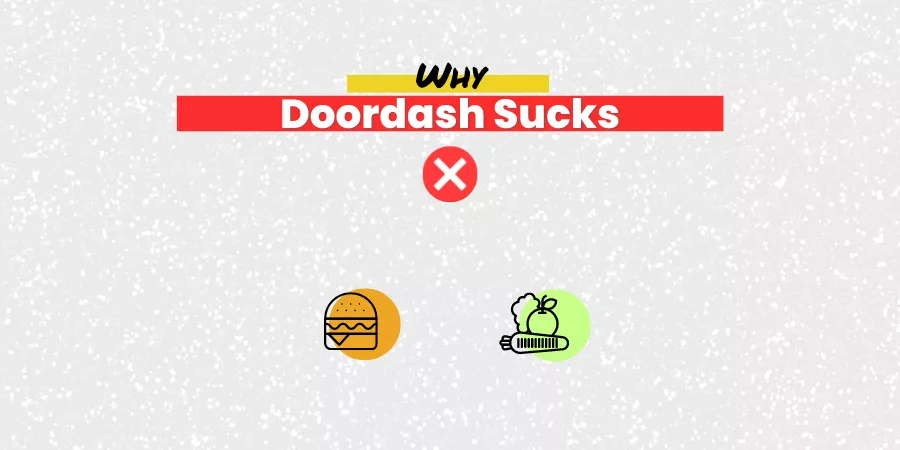 If you want to know why DoorDash sucks it must be because you haven't used DoorDash before because if you had you would definitely know why DoorDash sucks.
Why Does Doordash Suck?
Doordash sucks because there are many problems with the app, that doesn't seem to be solvable. Drivers get a low pay compared to how hard their work is. In addition, there are problems with the apps, drivers and customers. In fact all food delivery apps are like this.
1. Doordash is Expensive
One reason DoorDash sucks is because they are so expensive. They charge all kinds of fees as if you don't already have the task of paying for your food. With DoorDash, there is a delivery fee, service fee, and whatever your order costs.
While the fees vary with each order, those few dollars can quickly add up if you order from them a lot. Before you know it, your order total is way higher than you imagined it would be. You're probably thinking that food should not be this expensive and I agree.
Expensive food is not the way to go. DoorDash is a scam, a fraud, and certainly a rip off. And they deserve none of it because they do not care about their customers.
No one wants to go broke just to have something to eat. This should never be the issue especially when there's competition out there that would beat them. It seems that DoorDash believes they don't have much competition so they can get away with anything.
This couldn't be further from the truth. There are better alternatives out there that beat DoorDash by a ballpark.
2. Doordash is Very Slow
DoorDash is so very slow when it comes to delivering orders to customers. From the time you place an order to the time you receive it, there may be several hours in between. And that is if you even get the food in the first place.
DoorDash is known for having workers who eat your food. Yes, I said it, they will pick your food up from the restaurant, eat it and not think twice about it. They will also leave you waiting on the food for absolutely no reason.
3. Sometimes They Bring Cold Food
Because DoorDash is so slow, they are also known for bringing their customers cold food. Who wants cold food. Think about the fries, burgers and anything else that is supposed to be hot but is now cold thanks to the DoorDash driver who took their sweet time with your food.
If you are anything like me, you hate cold food. Unless it is a food that is supposed to be cold, you likely want your food to be hot or warm at the least and this is usually not the case.
4. You Might Get Wrong Orders
So many people have complained about getting the wrong orders. They have to wait a very long time for their food and then when it finally comes they learn that it is not what they ordered. The restaurant may have messed up or the DoorDash driver may have messed up and grabbed the wrong food.
Either way, it is not the customer's fault but that is how DoorDash treats its customers like they did something wrong to get a wrong order. Not only that but they do not want to fix the issues that they create.
5. Doordash Is Unwilling to Fix Issues
DoorDash is always doing something to rub their customers the wrong way but they don't do anything to fix it. Even when it is clear that whatever happened is their fault, they still don't try to resolve any issues. You can contact them about your issue and they will probably give you the runaround.
6. Dashers Might Eat Your Food
That is a big issue and it is so big I feel like I have to touch on it a little more. DoorDash drivers should know better than to eat a customer's food but they obviously don't because they do it all the time. And it seems that DoorDash does nothing to punish people who do things like this.
Sometimes they don't eat all of the food but they eat enough that the customer may not even notice. This is wrong that you have to wonder if someone has been eating the food that you paid an arm and a leg for. It is just not right and it is wrong on so many levels.
7. Doordash Fails to Notify
DoorDash always fails to notify customers when something goes wrong with their order.
Maybe the order isn't coming for whatever reason and you would think that DoorDash would pick up the phone and call or at least send a text. However, they leave room for worry and speculation because they do not notify the customer when something is wrong.
There is a lot of bad blood between DoorDash and past customers and that is all because of how DoorDash chooses to handle situations. It is not that hard to do right by your customers. They shouldn't have to deal with the nonsense.