It sometimes happens that an Uber Eats food order gets delivered to the wrong address.
What should you do if this happens to you, and how can you prevent it from happening in the future?
We'll answer these questions in the article below.
Uber Eats Delivered to the Wrong Address
If an Uber Eats order gets delivered to the wrong address, the customer should contact Uber Eats support.
Uber Eats support can refund the order or send a new order to the customer ASAP.
If you receive someone else's Uber Eats order, the best thing to do is let Uber Eats support know immediately.
If you placed an order but received someone else's by mistake, let Uber Eats know. They will get a replacement order to you ASAP unless you decide to get refunded instead.
On the other hand, if you did not place an Uber Eats order at all, and the delivery person just delivered to your house completely mistakenly, then it is still best to let Uber Eats support know. This way, they can see who was supposed to receive the order and get a new order to them right away.
Keeping Food Delivered by Mistake
If you have received a food delivery from Uber Eats or another food delivery service by mistake, you may wonder if you should return it or if you can go ahead and enjoy it yourself.
The answer to this question depends mostly on how long the food has been at your address, whether or not you have opened the packaging, and whether Uber Eats or the delivery company has already made a replacement order.
Of course, taking food back from someone is usually not considered sanitary, so Uber Eats, as a general rule, will not pick the food back up from you.
Many delivery orders, however, do have tamper-evident packaging, so if the packaging was not opened at all and you were able to let Uber Eats support or the delivery person themselves know right away that the order was not yours, they may be able to quickly retrieve the package and deliver it to the correct recipient.
If the food has already been at your address for a little while and/or you opened the packaging – perhaps because you did not know what it was – then Uber cannot redeliver this food to another customer. They will have to reorder the food with the restaurant and take a new order out to that customer.
Even if the food was only at your address for a brief time, and you did not open the packaging, Uber Eats may still decline to take the food back from you, especially if they already made a replacement order.
In these circumstances, you can keep the food and enjoy it yourself.
Return Food Delivered to the Wrong Address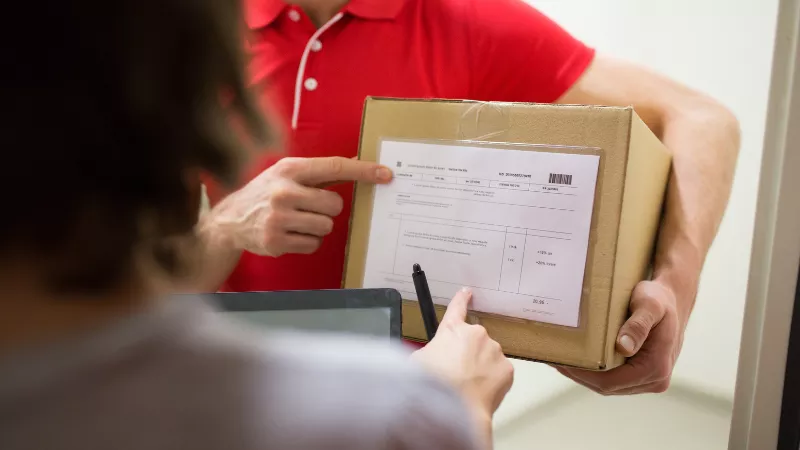 Generally, if you return food that was incorrectly delivered to you, it will most likely get thrown away. That is the mandated response to returned food.
In some cases, although not technically allowed, the Uber Eats delivery driver might keep and eat the food themselves.
If you can simply refuse the food in the first place, so you do not take possession of the food or open it at all, then the Uber Eats delivery driver can redeliver the food to the correct address.
Otherwise, if you do receive the food, and the Uber Eats delivery driver is not able to deliver the food for any reason, then you should either keep the food yourself or find someone else to give the food away to.
Contacting Uber Eats Driver
To contact your Uber Eats Driver, go to your Uber Eats app. Then go to your order tracking page, and tap the "contact" button. You will have an option to either send a text message to the delivery driver or to call them.
How Do I Avoid Uber Eats Delivering to the Wrong Address
If you have experienced Uber Eats delivery drivers having trouble finding your correct address in the past, or even repeatedly, there might be an issue with how your address shows up in their GPS map feature.
To prevent this issue from happening again, contact your Uber Eats delivery driver through the app with a text message.
Try to be clear and concise. Text them your address and some pertinent information.
For example, you could also say, "The nearest cross streets are X and Y." "After turning on X Street, my house is the third house on the North side of the street. It is blue," or whatever information will help them find your correct address and confirm that they are in the right spot.
What else
If you are an Uber Eats driver who mistakenly delivered food to the wrong address, you must quickly resolve the problem.
If you are still at the property and you notice immediately that you made a mistake, and if no one has taken the food, then you could pick the order back up and take it to the correct address.
If someone else has taken possession of the food, or even if you have driven away, you should contact Uber Eats support immediately to let them know about the situation. You do not want to try to get the food back from someone you have already given it to because you do not wish to risk redelivering food that could now be contaminated with someone else's germs.
Once you contact Uber Eats support to inform them about the situation, they will reach out to the customer and either refund them for the order or help them place a replacement order to be delivered ASAP.
Depending on the timing and logistics, Uber Eats may let you know about the replacement order or ping another driver who is closer to the pick-up location at that time.
Wrong Address Provided for Uber Eats
It does sometimes happen that an Uber Eats customer forgets that the address saved in their profile is not where they currently want their food to be delivered, for example, if they are at work versus home, or vice versa, at a friend's house, or any number of other scenarios including simply a typo.
If this is the case, the Uber Eats driver can either cancel their delivery or reach out to the customer or Uber Eats support.
After Uber Eats Support or the customer are contacted about the change of address, they can ask the original driver if they would still accept the delivery or ping a new driver.
Verifying the delivery address before placing your Uber Eats order is essential.
Sources: